Piceid Resveratrol from Red Grapes.

Full spectrum blood flow superfood from red grapes that works its magic at the cellular level.
1 capsule has the equivalent amount of Piceid Resveratrol as contained in 1000 red grapes.

1 capsule has the equivalent amount of Piceid Resveratrol as contained in a regular bottle of red wine.

VINIA's Piceid Resveratrol is 82% soluble compared to Regular Resveratrol at 1%.
One Capsule.
Once a Day.
Feel the Difference
Every Day.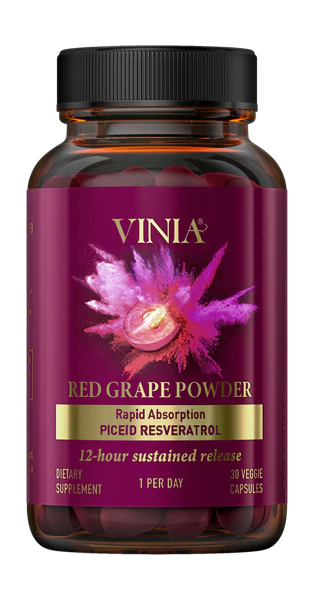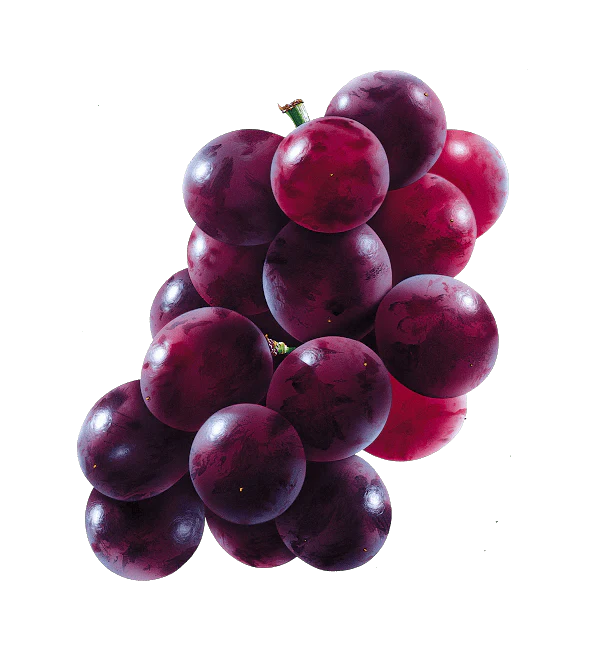 RESVERATROL
NATURE'S SELF DEFENSE
Grapevines have the ability to shield themselves against the cold, wind, and rain to live for up to 100 years. Their secret: Resveratrol, a compound the vine produces to protect itself. Resveratrol tends to be concentrated in the skins of grapes and berries. It's found in red wine, grapes, some berries and peanuts. It's shown notable promise regarding antiaging, cellular nutrition and protection, full body detoxification because of its antioxidant and anti-inflammatory properties.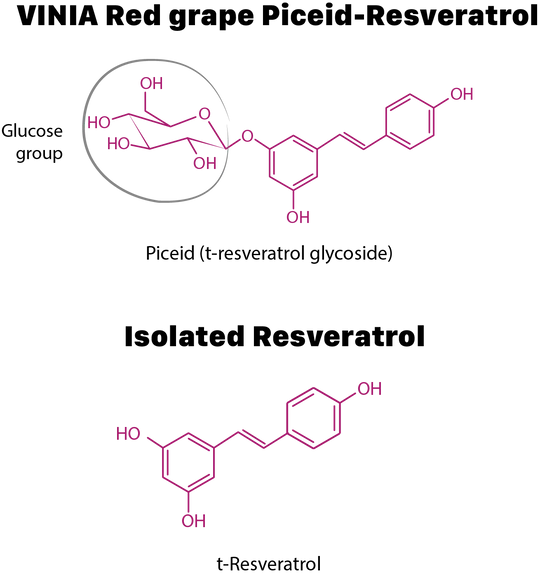 There are 2 major active types of Resveratrol. VINIA is the only product with Piceid Resveratrol sourced with cells harvested from the skin of the Red Grape.
✓ VINIA contains 6 mg Rapid Absorption Piceid Resveratrol.
✓ Piceid Resveratrol is attached to a sugar molecule, known as glucoside, which greatly enhances VINIA's solubility.
✓ 4.9mg of the 6 mg of Piceid Resveratrol in each 400mg VINIA capsule gets into the blood stream.

SELF DEFENSE 
AT THE CELLULAR LEVEL.
VINIA's Piceid Resveratrol gets into your blood stream faster where it fuels the cells lining your vessels and arteries to perform their best so you can feel your best.*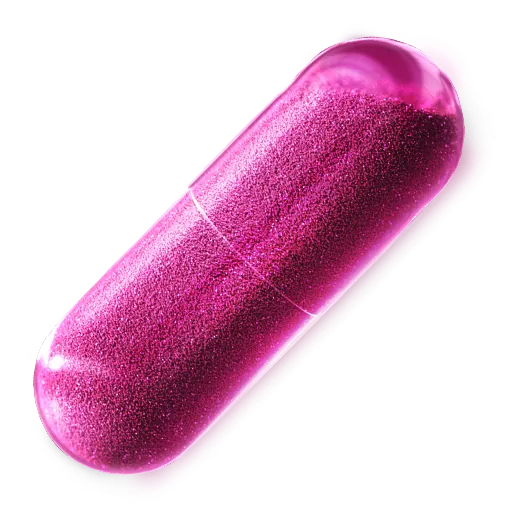 BETTER BLOOD FLOW
AND CELLULAR HEALTH
VINIA boosts nitric oxide production, leading to better blood flow.*

Through better blood flow, VINIA supports the removal of waste products from our cells.*

Through the production of anti-oxidative enzymes, VINIA protects cells.*

VINIA restores your Endothelin-1 and Nitric Oxide balance, improving blood flow.*

Benefits of Red Wine
or 1000 Red Grapes
VINIA is based on the French Paradox. Scientists demonstrated that despite a diet rich in lipids and fat, the French population had good heart-health derived from the daily moderate consumption of red wine. We harnessed those health-fortifying benefits minus alcohol, sugars and calories. One VINIA capsule has the equivilent amount of Piceid Resveratrol as contained in a regular bottle of red wine.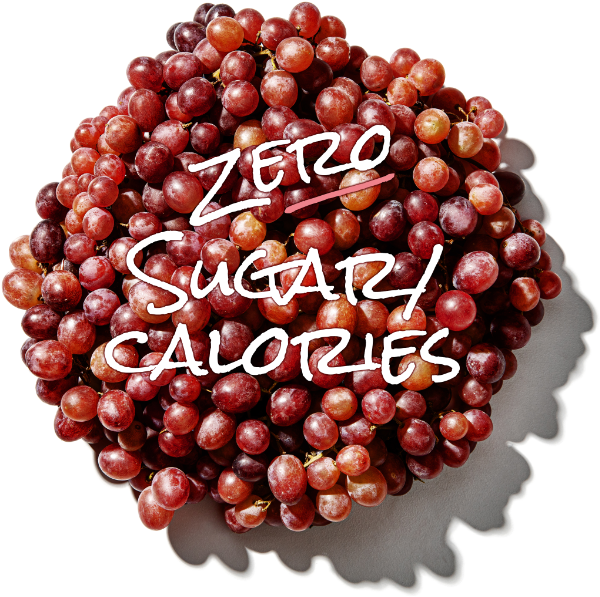 OUR RESVERATROL
IS KINDER ON THE PLANET.
Unlike regular or synthetic resvertatrol from Japanese Knotweed or Polygonum cuspidatum , we grow grape cells without growing the plant. Our sustainable technology uses 99.99% less land than traditional agriculture.
We are mindful farmers committed to reducing our environmental footprint. In just 3 weeks, with our unique technology, we accomplish what nature does in 1 year but with higher levels of polyphenol concentration, no sugar, calories or alcohol
No chemicals, no hazardous waste. No solvents or heavy metals in our manufacturing process, resulting in 100% biodegradable wastewater.
Than Industrial Production
87% lower energy use than regular industrial production of Resveratrol.

One bioreactor utilized in our manufacturing process produces the equivalent annually of approximately 240,000 square meters of land.
4 Clinical Trials.
8 Scientific Studies.

500+ 5 Star Reviews.
Life changing testimonials.

Our clinical trial showed that VINIA increased the dilation of arteries by at least 70% for each person who took VINIA daily for three months.*
We have achieved a standard of Piceid Resveratrol from red grapes that has never been seen before. Our clinical trial and in vitro studies demonstrate that VINIA:
Our in vitro studies show that VINIA boosts nitric oxide production by 120%. VINIA restores your Endothelin-1 and Nitric Oxide balance.*
Our in vitro study shows that VINIA decreases Endothelin-1 by 50%.* Endothelin-1, a peptide that increases as you age, constricts blood vessels and slows down blood.
Our internal testing shows that Piceid Resveratrol has 82% solubility vs 1% for regular Resveratrol. VINIA gets absorbed into your blood stream faster providing greater impact.
Our clinical trial showed that VINIA increased the dilation of arteries by at least 70% for each person who took VINIA daily for three months.*

VINIA enters the blood stream within 20 minutes where it remains bioactive for 12 hours.
Sustained release.
VINIA remains bioactive for a full 12 hours providing sustained energy and alertness.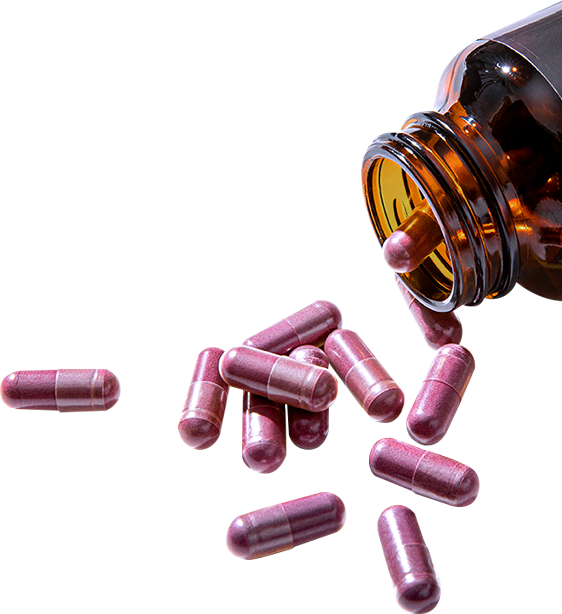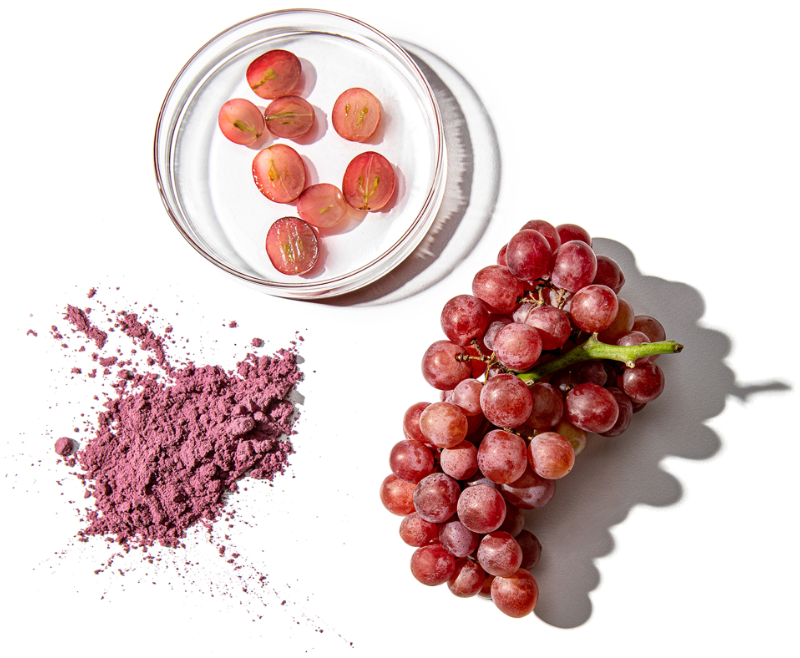 GLOBAL LEADER IN
PLANT CELL BIOLOGY.
Plant biology is leading the revolution in cellular nutrition and blood flow wellness. Brought to you by BioHarvest Sciences, the pioneers of game-changing cellular superfoods. With our patented BioFarming technology, backed by decades of global scientific research and over $60M USD of investment, we grow bioactive ingredients in their natural state and composition for the human body. We unlocked the secrets of cellular plant biology to bring the power of plants to the people.
POWERED BY
BIO-PLANT CELLICITATION™
BioHarvest has developed the only plant biotechnology that produces bioactive ingredients and secondary metabolites devoid of fats and sugars in their natural composition ensuring the highest bioavailability and efficacy. Our breakthrough patented technology is bringing robust cellular nutrition to the world.
We get it. You have so many choices — nitric oxide supplements, resveratrol tablets, and blood flow boosters are a dime a dozen. So why us? Hear from people like you who've made VINIA part of their daily routine.


4.8 Stars from over 775 Customers


Clarence D. (Verified Buyer) on 04/13/22
A friend of mine recommended this product to me and I am SO GLAD he did! As a person whose workday starts at 4am I've always had that afternoon "crash" but I see that my energy levels are better. I can actually feel and see the nitric oxide increase as my veins have that I normally only get at the gym after taking a preworkout supplement. I would take this for that alone, but once you throw in the benefits of Resveratrol, that's icing on the cake! I'm hooked!!

Better Workouts, Energy, and Focus

Jeremiah E. (Verified Buyer) on 03/12/22
It is now over 30 days I have been taking Vinia. I often work 60 to 70 hours a week, and I still found time and energy to get my workouts in. I'm 45 but feel like I have Energy of when I was 25. My nitric oxide levels feel like they must have increased. Dilated arteries for blood flow and energy to my entire body. Energy for the heart and brain.

Carlos O. (Verified Buyer) on 03/02/22
I'm hooked. Felt a quick shift in personal vitality. I'm 44, body felt like I was back in my mid-20's. More energy for physical activity more endurance. You will notice the lapse a few days after not taking it, less energy, feeling my actual age lol. Hard to not come back and buy more. Refered this to two friends and they themselves were pleased. Buy with confidence. Game changer in terms of physical activity and vitality.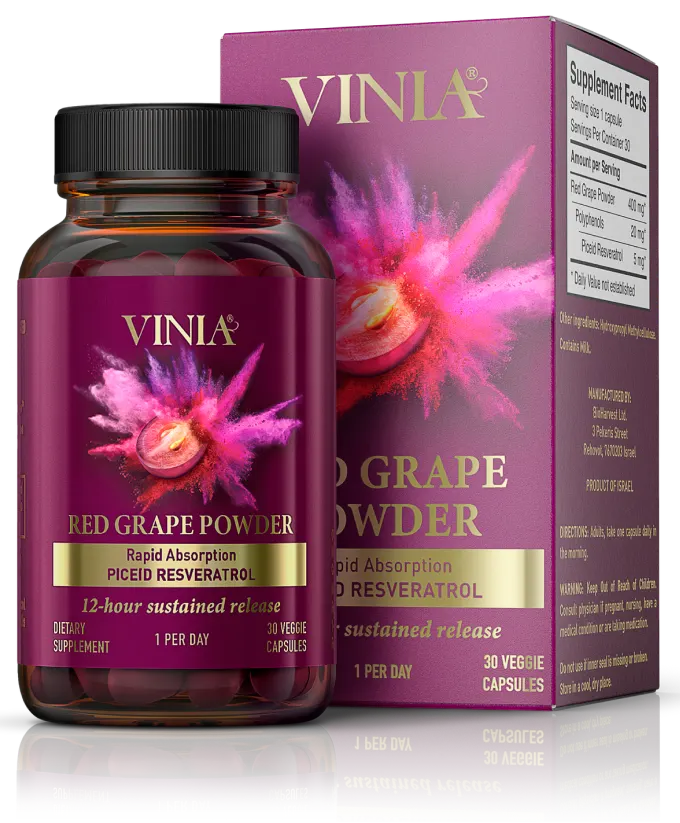 Unleash the power of
1000 red grapes.

SUBSCRIBE & SAVE UP TO $250  
Daily consumption of VINIA's health-boosting Piceid Resveratrol has been found to:
✓ Support heart health by improving blood flow and delivery of oxygen*
✓ Increase dilation of arteries and blood vessels*
✓ Support blood pressure already within normal range*
✓ Improve physical energy and mental alertness via the delivery of increased blood flow and oxygen to the body's tissues and organs*
✓ Support blood circulation*
✓ Produce more nitric oxide, which causes blood vessels to relax*
✓ Decrease the oxidation of LDL cholesterol*
✓ Protects cells from damage*
✓ Fuel antioxidants activity within veins and arteries*

Cancel Anytime, No Hassle

WE'VE GOT NOTHING TO HIDE Take a look inside
Nourish your cells with a red grape cell superfood powder that contains a matrix of bioactive molecules and polyphenols. Through our patented technology, we grow cells with a concentration of piceid resveratrol 100X that found in red grape skin and together with a matrix of polyphenols (catechin, coercetin, tannens and anthocyanins).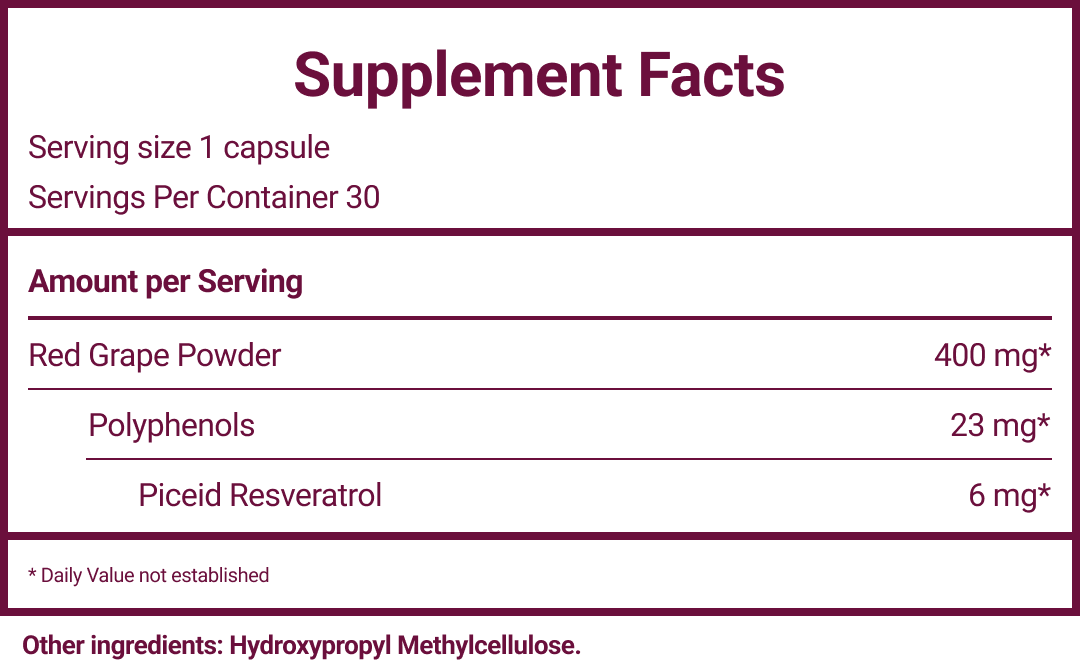 FROM SKEPTICS TO BELIEVERS.
Hear from customers who have made VINIA part of their daily ritual.
We believe in your cellular potential. We are changing the world 1 grape cell at a time.
How long will it take to see results?

Training your body to produce Nitric Oxide doesn't happen overnight. Everybody will experience VINIA differently depending on genetics, age, fitness level, and lifestyle. Results may vary. Jumpstart your wellness routine with the state-of-the-art Resveratrol from Red Grapes.
Based on our clinical studies, we recommend taking VINIA for 90 days. However, many people will feel it even sooner.
After 90 days of taking VINIA, your body and mind should feel re-energized and refreshed. Individual results may vary. This is where your dedication to taking VINIA daily pays off.
The longer you take VINIA, the more you'll maintain this new-found vitality. Invest in your cells every day. After feeling the health-promoting benefits of VINIA, why stop now?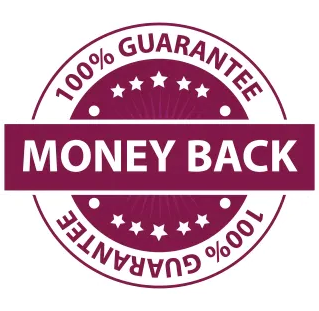 90-Day Money Back GuaranteeIf you are not satisfied, simply provide your receipt and any unused product in its original packaging, and we will refund you the full amount up to 90 days from the date of purchase from VINIA.COM for your first purchase only and subject to our terms of use.
90-Day Money Back Guarantee.
Better Blood Flow.
Better Life.
If you have any questions about blood flow or how VINIA can support your health—Don't hesitate to connect with our team of friendly specialists.